The Essential 5: Top Reports That Every Consumer Marketer Needs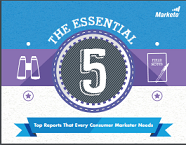 More and more, consumers do research, form opinions, and draw conclusions well before they choose to interact with your brand. This change has sparked a shift in the marketer's focus from being primarily focused on acquisition toward building relationships with consumers wherever they may be in their unique customer journey. But this shift takes time and resources, and the perception of marketing as a "cost center" persists. How can marketers rightfully assert themselves as drivers of revenue?
In today's economy, CEOs and CFOs want to hear about growing revenue and profits. This is where marketing automation tools like Marketo—one with robust reporting capabilities—come in. Once you're reporting and tracking your program performance, you can confidently answer these questions from the C-suite.
Download this ebook to learn about five essential reports that will take your metrics and credibility to the next level:
• Web Page Activity Analysis
• New Customer Analysis
• Customer Acquisition Cost Analysis
• Program Channel Performance Analysis
• Engagement Analysis