Forrester: The Total Economic Impact Of HP 3PAR Storage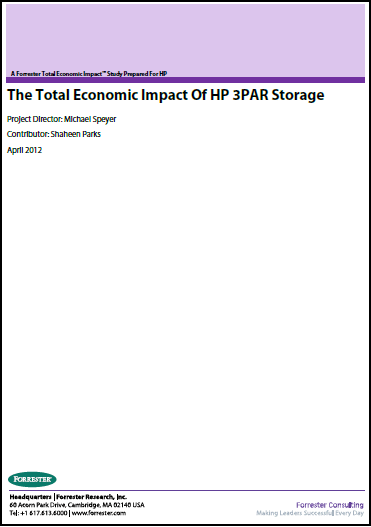 In this report sponsored by HP + Intel, Forrester Research provides an analysis of four HP 3PAR Storage customer implementations to quantify the efficiency and cost savings achieved over legacy storage platforms. On average, HP 3PAR Storage customers achieved a 10.4 month payback period with a 55 % ROI over a 3-year evaluation period and a significant reduction in CapEx and OpEx over that same period as a result of thin provisioning, maintenance costs avoided and labor productivity gains.
Intel, the Intel Logo and Intel® Xeon® Processors inside are trademarks or registered trademarks of Intel Corporation in the U.S. and/or other countries.