eBook | Social Media Monitoring: The New Frontier Of Customer Service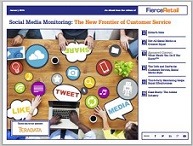 A growing number of shoppers are using social media sites to complain about products and service, but more than half of companies and brands are operating without strategies in place to deal with unhappy customers.
Monitoring and managing social media can make or break a retailer's customer relationships.
Social media is the new frontier of customer service. If your business isn't using it wisely, it will be left behind by disgruntled shoppers.
Chapters include:
• Why all social media is not created equal
• The do's and don'ts of social media monitoring
• How third party services can boost social media campaigns
• How the travel industry is charting a course and creating best in class social media programs