Cisco Unified SRST For Cisco HCS – A Cloud Connector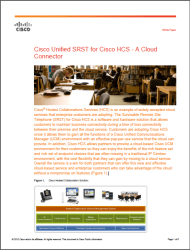 Cisco® Hosted Collaborations Services (HCS) is an example of widely accepted cloud services that enterprise customers are adopting. The Survivable Remote Site Telephone (SRST) for Cisco HCS is a software and hardware solution that allows
customers to maintain business connectivity during a time of loss connectivity between their premise and the cloud service. Customers are adopting Cisco HCS since it allows them to gain all the functions of a Cisco Unified Communications
Manager (UCM) environment with an effective pay-per-use service that the cloud can provide. In addition, Cisco HCS allows partners to provide a cloud-based Cisco UCM environment for their customers so they can enjoy the benefits of the rich feature set and rich set of endpoint choices that are often missing in a traditional IP Centrex environment, with the cost flexibility that they can gain by moving to a cloud service. Overall the service is a win for both partners that can offer this new and effective cloud-based service and enterprise customers who can take advantage of the cloud without a compromise on features (Figure 1).