9 Questions You Need to Ask When Evaluating Personalization Platforms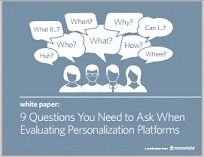 So how do you decide which personalization platform is best for you?
The best way to find out is to ask your prospective vendors a lot of questions. This eBook lists nine questions you should ask before making your decision.