Webcast: Effective customer support in our frenetic mobile world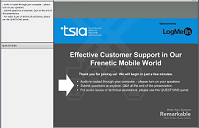 The continued explosion of mobile devices, ever-increasing customer expectations, and accelerating pace of business are pushing today's support organizations to the brink. Luckily, remote support solutions are available which enable these same organizations to not just keep pace, but to continuously improve their customers' support experiences.
On this webcast, you'll hear:
– From John Ragsdale, Vice President of Technology & Social Research for TSIA: John will discuss new features and capabilities being introduced by leading remote support platforms and how you can leverage the capabilities beyond technical support.
– From Sean Rivers, Director of Customer Service for Republic Wireless at Bandwidth.com: Sean will share how Republic Wireless approaches customer support in today's hyper-competitive mobile environment, where customers reign and their loyalty must be continuously re-earned.
– From Peter Zeinoun, Director of Products for LogMeIn Rescue: Peter will share his views on today's support challenges and showcase how LogMeIn continues to innovate its support solution, Rescue, in order to remain the tool of choice for today's support organizations.