The Forrester Wave: Digital Experience Delivery Platforms, Q3 2014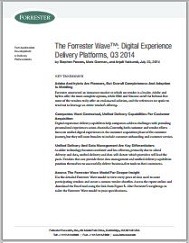 Adobe received the highest score for current digital experience (DX) delivery offerings in The Forrester Wave™: Digital Experience Delivery Platforms, Q3 2014 report. And, we're continuing to innovate. Since the evaluation, we've launched several new capabilities that include richer support for mobile apps, increased usability through visual workflows, and a master marketing profile.
Read the report to see why Adobe was named a Strong Performer and to learn more about:
– The DX challenges that companies face and how they're addressing them
– The array of tools and technologies available in digital experience delivery platforms
– The journey to unified, cross-channel digital experiences
"Strategically, Adobe differentiates with its vision of the connective tissue between its tools, and its aim for single customer profile." – Forrester Research, Inc.