The Definitive Guide to Lead Nurturing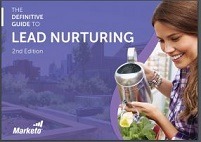 The new Definitive to Lead Nurturing is a completely rewritten Second Edition that introduces the latest lead nurturing ideas, methods and techniques.
Lead nurturing has become an integral part of a successful marketing strategy—specifically when building relationships with potential buyers across multiple channels, even if they are not currently looking to purchase a product or service. Today's potential buyers don't become customers overnight—they require marketing over time as they self-educate and build trust with a company. Lead nurturing helps marketers communicate consistently with buyers cross-channel and throughout the sales cycle—addressing the gap in time between when a lead first interacts with you and when she is ready to purchase.
Download The Definitive Guide to Lead Nurturing to explore lead nurturing through thoughtful explanations, industry thought leader interviews, checklists and charts. Use it to look beyond email and incorporate the many channels your buyers use into your lead nurturing strategy — from in-store to mobile to social. By the end you will know how to establish a strong relationship with your buyer to build trust and as a result, deliver more sales-ready leads.
The Definitive Guide to Lead Nurturing covers everything you need to know to get started using lead nurturing to drive revenue growth, including how to:
• Create a lead nurture strategy
• Nurture leads across channels
• Segment a lead database
• Choose appropriate content for each lead nurture track and audience
• Get the most value from lead nurturing with testing and optimization
• Measure and explain lead nurturing's return on investment
• Don't miss the rest—Download the Guide Now!