Four Benefits of Enterprise Mobility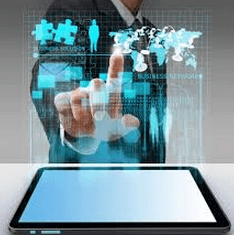 Enterprise mobility offers the opportunity for businesses and their employees to benefit from increased connectedness away from the office. Smart devices of all kinds are becoming more ubiquitous every month, and it is no surprise that businesses are now making use of mobile phones and tablets.
These technologies tend to work better and their ease of use makes them very attractive. Companies looking to increase their mobility today are frequently integrating into business operations the devices that their employees and customers use in their everyday lives.
Let's take a look at four ways that increasing enterprise mobility benefits companies – by having a flexible work/life balance, faster internal communications, increased responsiveness to customers, and the ability to work away from the office.
A Flexible Work/Life Balance
Obviously, people would rather feel free to move about rather than being chained to a desk all day. The Aberdeen Group conducted a study which found that investments in enterprise mobility had positive effects on employee retention and workforce productivity.
While a greater use of mobile devices for business purposes can mean that the business day might start to intrude into the personal lives of employees, it also gives employees the ability to control that process. It helps them stay on top of the daily happenings so they know what to expect when they next come into the office. They can also more easily plan their personal lives.
All this makes employees much happier, giving them more control and personal freedom. Happy employees tend to make happy companies.
Faster Internal Communications
Enterprise mobility speeds up internal communications in the same way that it speeds up communication between people. Networked connections bring people together no matter where they are, so distance is no longer a barrier to business operations. Instant messaging is, well, instant, and high-quality video chat software makes telecommunication much more useful.
A survey by Forrester Research found that 75% of businesses experience an increase in employee productivity. The top two reasons cited for this were faster decision making (by 66% of respondents) and "faster resolution of customer and internal IT issues" (by 48%).
Increased Responsiveness to Customers
The reasons provided so far all give employees an enhanced ability to respond to the needs of customers quickly and effectively, making them more available more of the time. In the Forrester survey just mentioned, "improved customer satisfaction" was the third reason cited by businesses (42%) for how mobility increases productivity.
In addition, a CIO survey found that most pro-telecommuting companies (38%) believe this to be the most important benefit of enterprise mobility. Overall, increasing mobility means that companies will be using more of the same devices that their customers are using, giving them more in common and letting them communicate over the same platforms.
The Ability to Work Away from the Office
The CIO survey mentioned above found this to be clearly the top benefit of enterprise mobility, with 40% of respondents agreeing. Mobile devices practically let employees bring their office with them wherever they go.
This provides a huge boost in productivity. A recent report on Australian businesses found that almost two out of every three businesses with a mobile staff policy report that it benefits their company, either through a direct increase in ROI or through more intangible rewards such as increased morale.
These are four of the major ways in which enterprise mobility brings value to a business, but they are not the only ones. Powerful business operations can now be squeezed into mobile devices, making employees less dependent on traditional physical business tools and freeing them up to work more effectively and responsibly.
Techprohub.com collects and condenses the latest research on emerging business trends, bringing you high-quality white papers on topics like Mobility, Virtualization, and Data Centers.