Best Practices for Social Influencer Marketing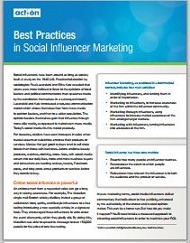 An endorsement from a respected voice can go a long way in raising awareness. In pure marketing terms, social media influencers deliver commentary that boils down to free publicity, enhanced by the authenticity of the known and trusted opinion maker. This can be a home run. But how do you make it happen? You'll need to take a measured approach to attracting social influencers in order to maximize your ROI.
In this whitepaper, we'll cover:
· The power of social influence
· Choosing the right influencers
· Attracting influencers to your product or service
· What to do to become an influencer
Download this whitepaper to read more.