Adobe: From Cliche to Mission Critical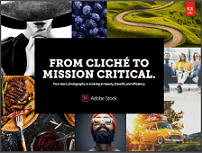 Stock libraries and the artists who contribute to them have evolved. That means the way you think about imagery can evolve, too.
Read From Cliché to Mission Critical to find out how:
• The perception of stock imagery has changed
• Stock libraries have evolved to deliver higher quality images
• Top designers work with stock imagery
Simply fill out the form to download the report.