A Roadmap for Real-Time Marketing Success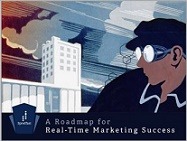 Real-time marketing isn't a new concept. Its core driver might as well be every marketer's mantra: reach the right audience at the right time with the right message.
Today, consumers are spending more and more time on social media. (An average 37 minutes daily!) And attention spans are getting shorter. Popular topics and trends come and go faster than before.
Smart marketers are joining trending conversations with relevant content and discovering a whole new world of opportunities to engage their audiences.
In this roadmap to real-time marketing success, you'll learn about four different types of real-time marketing, key considerations to build a strong team, and a five-step process for data-driven RTM. You'll also see how everyone from Nissan to NASA to Manchester United is succeeding with real-time strategies.