The Hot New Storage Technology For 2011 Is . . . Tape?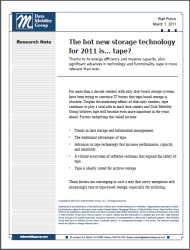 Tape-based storage is more relevant today than ever before. Depending on the environment, tape can be an optimal choice for backup, disaster recovery, archiving, or even primary storage. Tape especially shines for large-scale, long-term archiving. When implementing an active archive strategy, tape has significant advantages over disk, both in cost and functionality.
Download this Data Mobility Group Research Note sponsored by HP & Intel to learn more.

Sponsored by HP & Intel