The DAM Practitioners Playbook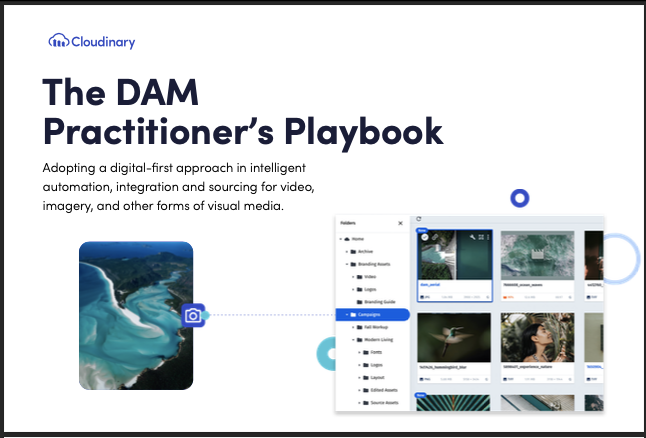 Adopting or upgrading a DAM? Be sure it's digital-first.
A captivating image or informative video often speaks more clearly than the written word. When managed well and displayed optimally, online visuals can inspire and connect.
Because a digital-first mindset is a must for businesses, we gathered a handful of media-management experts for a conversation on Digital Asset Management solutions (DAMs).
Our panel's expertise spans a variety of industries, and the group recognizes the importance of having a digital-first DAM as the foundation on which online visual experiences are built. We explore that together in Cloudinary's newest resource, The DAM Practitioner's Playbook.
A digital-first DAM:
• Compresses workflows through AI-driven automation, eliminating redundant, low-value tasks
• Integrates seamlessly with other systems for user adoption across an organization's customer-experiences teams
• Provides a single source of truth for all visual assets
• Keeps pace with the latest technologies and emerging file formats
Whether implementing DAM for the first time or looking for a needed upgrade, DAM practitioners stand to benefit greatly from the best practices shared in this guide. The content is question-and-answer format of each topic.
If you're calling the DAM shots, you need a playbook — we've got one you can download today.