Solutions For A More Energy-Efficient Data Center: From Water To Fresh-Air Cooling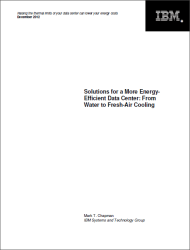 This white paper discusses recent trends in the industry toward increasing energy efficiency of the data center in order to save on power and cooling costs without reducing performance. Included in the discussion is a review of the key components in the data center that can affect power consumption and temperature as well as new solutions such as warm water and fresh-air cooling. Learn how IBM® System x® servers, powered by the latest Intel® Xeon® processors, can help save on power and cooling costs.
Intel, the Intel logo, Xeon, and Xeon Inside are trademarks or registered trademarks of Intel Corporation in the U.S. and/or other countries.