Moving to Hybrid Cloud: Top 5 Considerations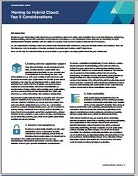 Businesses are embracing public cloud because it promises increased agility and scalability. But it can also introduce complexity, interoperability, and security concerns. Hybrid cloud is emerging as a way to mitigate those concerns by providing the right combination of internal controls with the ability to securely scale to meet business demand for IT resources.
As you contemplate moving various pre-production and production workloads – and your mission-critical and sensitive data to the cloud, be sure to develop a strategic approach based on your business and IT objectives. Here are the top five considerations to keep in mind as you begin evaluating hybrid cloud for your workloads.