Learn How 8x8s VoIP Phone Solutions Meet Tomorrows Small Business Challenge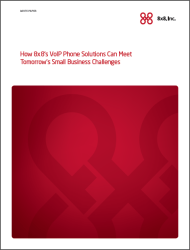 New White Paper on VoIP Advantages for Small Business!
Download this new white paper today for a close look at how a VoIP phone solution can help your small business stay ahead of future challenges.
Learn how you can take advantage of sophisticated calling features while traveling, reduce your cost of phone system ownership, and leverage sophisticated call center options to increase sales. Also, learn how to avoid costly business disruption during a natural disaster.
Download this White Paper Now to Help Your Small Business:
Improve productivity with VoIP phone service
Significantly reduce your costs
Capitalize on emerging opportunities
Improve your customer service
Enhance your company's professional image
Switching to an 8×8 VoIP phone system is fast, easy, and inexpensive. Download this new white paper now to find out how your business can become more productive and get the same features as a much larger company – with VoIP phone solutions from 8×8.