Breaking Boundaries Through Converged Storage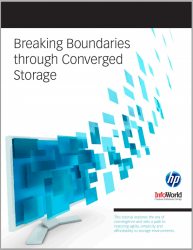 IDG Enterprise offers insight into how HP and Intel are leading the industry with an innovative architectural approach to today's storage needs in the face of yesterday's strategies and the seemingly endless onslaught of future demands.
In so doing, we dissect four key trends that go handin-hand with Converged Storage—Virtualization, Utility Storage, Deduplication and Big Data. These are the trends that are impacting, even revolutionizing, storage; and, not surprisingly, are top of mind for most IT leaders. Within those key areas, we cover the technology basics while also offering best practices and actionable advice for tackling today's greatest challenges. Our perspective is anecdotally supported with real-world customer case studies and learned field experience from technology leaders HP and Intel.
Intel, the Intel Logo and Intel® Xeon® Processors inside are trademarks or registered trademarks of Intel Corporation in the U.S. and/or other countries.