On-Demand Webinar: Objections: The Art and Science of Getting Past a NO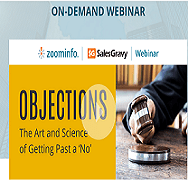 You've worked hard, have an appointment with a prospect, and are well prepared. Suddenly, out of nowhere, objections creep into the conversation. Sometimes they are obvious, sometimes they are very hard to see, either way, if you can't deal with them, your opportunity dies.
Join CEO and Best-Selling Author of the smash hit Objections, Jeb Blount and Sales Leader at ZoomInfo, Chris McDonough for this on-demand webinar on objection handling. During this session they will discuss how to walk through the human side of dealing with fear and rejection, while offering innovative, modern techniques for getting past NO.
You will leave this on-demand webinar with the tools to:
• Ask the right way to minimize resistance
• Become rejection proof
• Leverage human influence frameworks that turn you into master persuader
• Turn around buying commitment objections using our 5-step process