Faster Scans and Better Virus Detection – Can They Do That?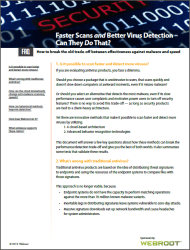 This FAQ answers questions about how IT professionals can meet the need for better malware detection without sacrificing performance. It explains why traditional endpoint security solutions, which use memory and CPU resources on the endpoint to compare files with threat signatures, are no longer viable. It then describes how a cloud-based system, which offloads the burden of pattern-matching from endpoints, stops zero-day attacks and eliminates large signature file downloads and bulky, CPU-draining clients. Diagrams further depict how Webroot leverages the cloud and behavioral-based detection to deliver superior threat protection-especially against unknown threats-with minimal impact on system performance. Included is a description of how the Webroot solution replaces signatures real-time collective intelligence, leveraging one of the world's largest threat databases.
Finally, it presents recent PassMark testing that validates the performance of Webroot® SecureAnywhere™ Business – Endpoint Protection, which received top marks in a comparison of eight leading endpoint security solutions.