Edison Group ~ The Emergence Of A New Generation Of Deduplication Solutions: Comparing HP StoreOnce VS. EMC Data Domain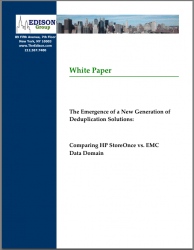 The HP StoreOnce deduplication technology helps IT organizations address the challenge of protecting and recovering exponentially growing amounts of data in the face of stagnant or incrementally increasing IT budgets. HP recently launched the latest iteration of its StoreOnce deduplication portfolio. The HP B6200 StoreOnce Backup System powered by Intel® Xeon® processors provides enterprise-class scale-out capabilities and autonomic restart of backup jobs for high data availability.

To help current and potential customers understand the value of the appliance and the StoreOnce strategy, technology research firm Edison Group compared HP's B6200 StoreOnce offering to its nearest competitor, EMC Data Domain 890 and Data Domain Global Deduplication Array. Edison considered a number of criteria that are of critical concern to today's data center IT managers in evaluating products including scalability (including capacity and performance), high availability, architectural approach, pricing, and licensing. In the course of its research, Edison found that HP B6200 StoreOnce meets, and in many cases exceeds, Data Domain's published specifications.
Intel and the Intel logo are trademarks of Intel Corporation in the U.S. and/or other countries.