Case Study: Island Hospital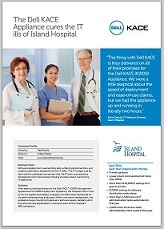 Within minutes of deploying the Dell KACE K1000 Management and K2000 Deployment Appliances, both began tracking Island Hospital's physical and software assets, detailing all of the applications running on each of the hospital's 500 computers. Find out how they achieved 500% ROI and a savings of $110,000 in the first year.
Oops! We could not locate your form.