Blade Servers: Easier Management, Better Power Usage And Quicker ROI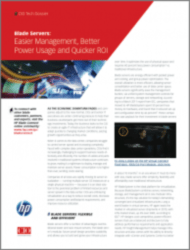 Blade servers offer a number of advantages over tra­ditional tower and rack-mount servers. The blade serv­er's modular, future-proof design provides scalability and allows you to build and grow your infrastructure over time. It optimizes the use of physical space and requires 40 percent less power consumption vs. traditional infrastructure.

Intel and the Intel logo are trademarks of Intel Corporation in the U.S. and/or other countries.