Benefits of Consolidating on New IBM System x 2-Socket Servers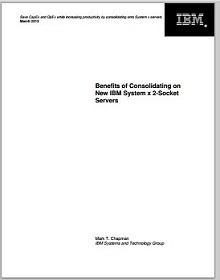 Read this white paper to see how consolidating with IBM's 2-socket servers can help reduce cost, complexity and improve performance especially in virtualized environments. IBM® System x3650 M4 Express® server, with the latest Intel® Xeon® processor, can help you consolidate for a truly simplified and optimized IT infrastructure.
Intel, the Intel logo, Xeon, and Xeon Inside are trademarks or registered trademarks of Intel Corporation in the U.S. and/or other countries.