Addressing The Document Disconnect: Hidden Opportunity, Big Payoff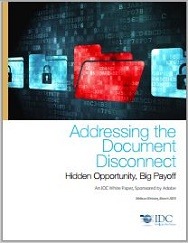 In this research study hear from more than 1,500 line-of-business leaders, IT leaders, and information workers about the effectiveness of their organization's document-based business processes.
Learn how organizations of all sizes in all industries around the world are suffering from what we call the "document disconnect." Learn how this is causing significant delays and errors across critical business functions such as sales contracting and quoting, procurement, talent acquisition, and onboarding.
Download this white paper to learn more.