Predictions 2015: Most Brands Will Underinvest In Mobile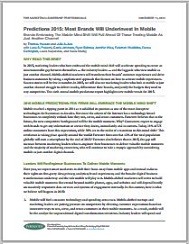 Download the Top 10 Mobile Predictions for 2015 to learn how you can win big in the new year by investing heavily in mobile marketing. You'll learn about the oncoming mobile technology arms race — and you'll discover the steps you must take to stay ahead of the pack.
Download the report now to see all ten predictions and actions for marketers, including:
• How mobile technologies will disrupt entire industries. And what you must do to prepare.
• Why mobile moments will shrink to micro-moments. And which strategies you'll need to integrate.
• How mobile wallets will soon take over. And what you can do to seize the opportunities.