ESG: Dedupe 2.0: What HP Has In Store(Once)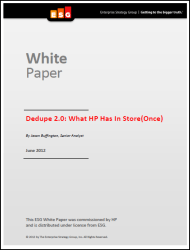 Between increased use of server virtualization, the dynamic proliferation of private cloud, the ever-growing unstructured data pool, and the advent of "big data," organizational data is going to continue to grow. Effective deduplication reduces the impact of that growth, lessening the strain of constant storage growth on organizations. All organizations need an effective deduplication strategy; ignoring deduplication will lead to data protection infrastructure being swamped with data. If you haven't already, 2012 is the year to wholly adopt deduplication within your data protection strategy. With HP and Intel's newest offerings, the short list of enterprise-suitable deduplication for data protection providers just got bigger—adding a name that many view as synonymous with enterprise servers and their storage.

Intel, the Intel Logo and Intel® Xeon® Processors inside are trademarks or registered trademarks of Intel Corporation in the U.S. and/or other countries.