Edison Group: HP StoreOnce Extends Its Industry Leadership In Deduplication 2.0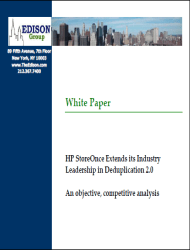 Disk-based backup with deduplication has emerged as a way for enterprises to deal with explosive data growth. Using it, they can accelerate backup and recovery processes and reduce total capacity requirements. This report sponsored by HP + Intel compares some of the leading solutions in this field and reveals which perform best based on a series of criteria. Find out which deduplication solution could best meet your company's needs.
Intel, the Intel Logo and Intel® Xeon® Processors inside are trademarks or registered trademarks of Intel Corporation in the U.S. and/or other countries.